Halloween is one of my favorite holidays. BK and I planned our costumes well in advance of the second annual IWC Halloween party. Rightly or wrongly, we feel we have reputations to uphold after last year. That and we just really like to dress up.
Our costume criteria this year was to use as much stuff that we had on hand as possible,the costume needed to be cool, comfortable and quickly constructed. I also wanted a costume that didn't require hair (i.e. a wig). Also, while BK's husband is less introverted than Husband, we had guidelines for his costume too, comfort being a priority. After discussing it and looking at the fabric stash, we decided to go with Cleopatra and Marc Anthony for BK and JK, a classic couple's costume if there ever was one. I went as Nefertiti.
Sometime last year, in a fit of misguided enthusiasm, BK and I had gone in on some knit fabrics.Lured by the combination of the $12.99mxn a meter price and the quality of the fabric,the bargain table at Telas Parasina proved irresistible.  Among those treasures was a pale platinum pleated polyester shot through with a shimmering silver Lurex stripe. Imagining sewing several separates for my fantasy social life, we bought six meters.  Which should have yielded a simple cocktail dress, a tank top, a long skirt and a wrap, instead it languished in my stash.
Marc Anthony escaped being clad in the same cloth when I found this tutorial online which suggested using two white men's tees. You would never ever believe the transformation BK wrought on those tees. I am in awe. Several cheap earrings gave their lives to embellish their belts, his bracers and her armbands.
Accessories can really bring a costume from simple to spectacular.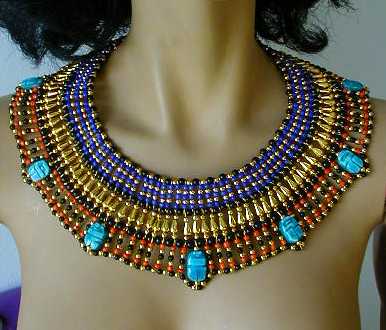 We devoted several days to our search, the Egyptian store, which has locations in the various mall, was a bust. They wanted $500 mxn  each for a beaded collar and a brass head piece, while I think the price on the asp bracelets was less, it wasn't enough to tempt us. I did pick up five blue scarab beads for $20 mxn each, with the intention of reusing them after the event. I wanted to recreate this necklace, though I forgot my intention half way through the project.
We found the best pieces for the least amount of pesos in the various Chinese import stores scattered around Centro. We wandering to the stores lured by the displays of cheap plastic geegaws. These stores are a combination five and dime and McFuggles. I bought my earrings for $12.00 mxn (a dollar) where similar ones in the better accessory stores like Glamour and Michelles were ten times that. I did lust after a  rhinestone pair of earrings in Michelles that was $240 mxn, but couldn't see spending more on a pair of earrings than my entire costume would have cost.
The best score were some weird crinkly black ribbon hair ties that BK found. The creative process is amazing, holding some up to her head, she asked me "what do you think?". I was speechless, hanging down from her ears they looked like tiny braids. Gathering up all that we could find, she bought them. As an added bonus since she had bought more than a dozen, she got the wholesale price. Combining them with some gold plastic bead trim, she created a wig using a cap that she crocheted.
Originally, I whipped up a crown out of heavy paper, decorated it with some plastic jewels, gold rick rack and left it to sit. The day before the party, I decided it needed something, maybe some more trim, because it lacked substance. At Huacho Martin, I found some interesting plastic trims. Then on a whim, I went to the Nuevo Fenix,there I bought fielro tecno, a heavy stiff felt. I redrafted my crown pattern, combining two different Egyptian crowns because I vaguely remembered that Pharoh wore two crowns together, the crowns of Lower and Upper Egypt. I am glad that I did it, because that crown made my costume.
These are my favorite photos.
The part we found hardest was the make-up, especially  where we augmented our eyebrows. I couldn't go as far as deliberately creating an uni-brow.
As usual, I forgot my camera, so all photos are courtesy of BK and her husband.


Marc Anthony and Cleopatra
Debi and Tom trying on our head gear.