As the firecrackers scent the air with gunpowder and create patterns in the sky, I am reminded of various folk remedies to end drought, where rockets are shot into the air to bring down rain. The rains have finally come, nice long afternoon showers cooling everything off. Saturday, I scattered  flower seeds in the gaping maws of the huge cement pots where the skeletal Flor de Mayo trees are planted. Little seedlings seem to be sprouting, I can't wait to see what I've sown because I indiscriminately broadcast the remnants of the outdated seed packages I have been saving.  The only planned sowing were Swiss Chard in a package label something like rainbow silver beet which I hope to see poking through  the zatar (also known as oregano grueso) in my big bushel sized tub.
Gardening has been taking a backseat to my other activities, the yard is looking tamer these days. The gardener and I seem to have settled on a fifteen day cycle. I miss the purslane peaking through cracks between the bricks but I am glad to have the other rouge grasses and plants under control.
I'm in the process of crocheting a blanket for Ivy (the new nickname I've chosen for the latest granddaughter since she is number four. IV, in Roman numerals. I am very proud of my cleverness. The blanket has taken on a life of it's own. La Primera pinned a baby blanket on Pinterest.
"I can make that ", I decided, following the link but there was no pattern, simply a photo in an Etsy shop. Feeling confident, I didn't let a little thing like not having a clue deter me. At Hilos Salomon, my favorite yarn store, I pondered the baby yarns. My color memory is not what it used to be. I bought some pink and green yarn similar to the baker's twine that is so popular these days, a matching old rose pink and spring green.Then I saw another tweed yarn with the spring green and ivory, so perfect with the addition of more ivory. A tea dyed looking beige beckoned from the case too. Happy in my purchases, I envisioned the lovely roses and bows entwined in what I foresaw as Ivy's new favorite blankie.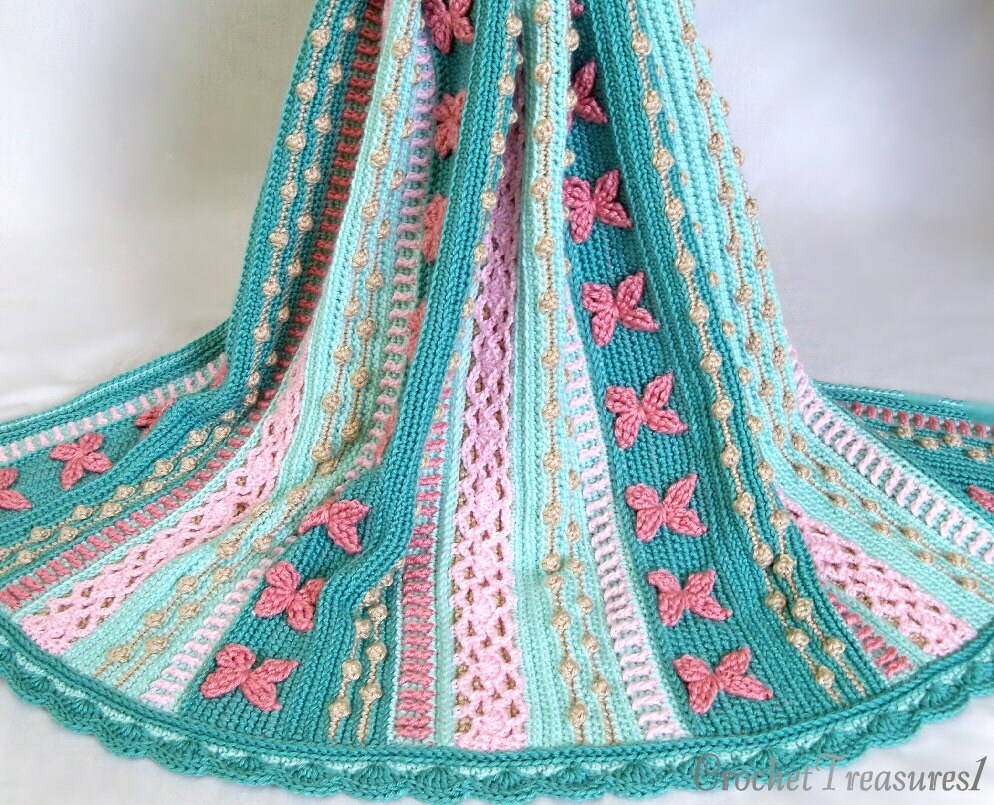 It must be the chemicals from the yarns, because none of those colors are in the original blanket that La
Primera pinned (on the left). Maybe the ivory, most definitely not the beige. The pink is so off it's not even in the same family. The beige yarn is now the seed yarn for my new yarn stash. I bought some variegated ivory and pastel along with a baby pink at Chedraui in hopes to salvage my project.
I haven't been able to figure out how to make the bows, which I think may be embroidered but I have the bobbles totally down pat. I also took another trip to the yarn store, this time I went into the Peraza store located in one of the callejones (alleys) near the Mercado. While Hilos has a better selection, La Peraza has better light. More importantly, they also have a samples book. There I acquire a skein of aqua and a lighter seafoam blue.
I have toyed with ripping out the row of deep pink but I think I will leave it and just pretend that I never even tried to copy this blanket.
Though the baby blanket is growing beyond the definition of a baby blanket and is more of lap robe. It's about five feet long already and I have a border planned which will make it about five and half feet. Here it is from a bit further away, that old rose section is just blatantly wrong. Also you can't tell because I haven't blocked it but the green bunches are shamrocks and the pink ones are roses with five petals. I keep crocheting away, hoping that some magic will happen and it will all mysteriously work out. Deep in my heart I know that I really ought to tear it out and start over. Originally the pink was closer to the edge, but the beauty of crochet is that you can add to the edge, so I was hoping that by surrounding the pink with the more ocean like colors, it would blend.
So I will mull this over and steel my spine because it isn't working out. What do you think?